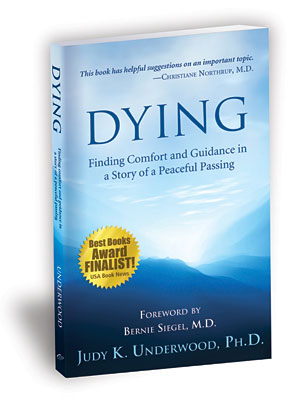 Download Foreword by
Bernie Siegel, M.D. FREE
Dying: Finding Comfort and Guidance in a Story of a Peaceful Passing can assist you with the challenges of the dying time. This inspiring story offers practical advice and emotional support, to transform what is often a frightening, isolating time into an important, meaningful experience.
Therapist Judy K. Underwood, Ph.D., helped her clients live to the fullest without giving much thought to death. Then one of her clients was diagnosed with terminal cancer. Only 56 years old, Kris knew she wanted to create a peaceful passing, and she asked her therapist for help
"I wanted to tell Kris's story as she wanted it told," says Dr. Underwood. "I also wanted to pass on everything that I learned so that others who face the end of life — either their own or a loved one's — can handle the situation with composure."
Told with awe, clarity and respect, Dying is a beautifully written story of coming to terms with death, as well as a practical guide to the process.
"I wanted to help others go through the dying time with no regrets," she says. "The vast majority of us will know weeks or months in advance that we are near the end of life. Why not be prepared?"
Download Foreword by Bernie Siegel, M.D. FREE.