Do you:
have a friend, family member, co-worker or client who is seriously ill?
wonder how you can be of comfort to this person?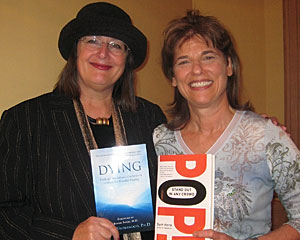 Many of us struggle with what to say and do when dealing with someone who is facing death. We don't want to offer meaningless platitudes, offend anyone or create hurt feelings by saying the wrong thing.
Psychotherapist Judy K. Underwood, Ph.D. understands the dilemma we feel when a loved one doesn't have much time to live. A 56-year-old client with late-stage cancer asked for help to die well. As a result of that experience Dr. Underwood has written a compassionate, clear book with specific suggestions on how we can support anyone in the final stage of life.
The premise of this presentation is that "playing ostrich" about this issue doesn't make it go away. None of us can avoid death, no matter how well we eat, how much we work out or how much we long to live forever. We don't have the power to stop someone we care about from dying; we do have the power to improve this person's final days by creating an environment in which our loved one feels acknowledged, listened to, and honored.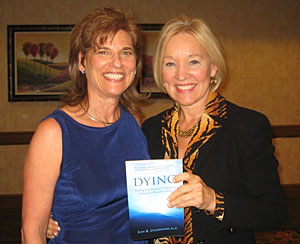 Previous program participants have told Dr. Underwood, "I thought this presentation might be a 'downer,' however it was one of the most uplifting presentations I've ever heard." "I'm not afraid of dying anymore. You gave us tools to face this issue head-on instead of hiding from it." "I'm embarrassed to say I avoided going to see my aunt in the hospital because it was uncomfortable seeing her so sick. I put myself in her shoes, as you suggested, and built up the courage to visit her because I know that's what she deserves. And with your suggestions, I knew how to 'be there' for her. Thank you." "Your Passing Peacefully Bill of Rights ought to be given to every person diagnosed with a terminal disease. It should be on the wall of every hospice." "For the first time in my life, I have peace around this issue. Thank you."
Contact DrUnderwood@passingpeacefully.com to discuss speaking arrangements.